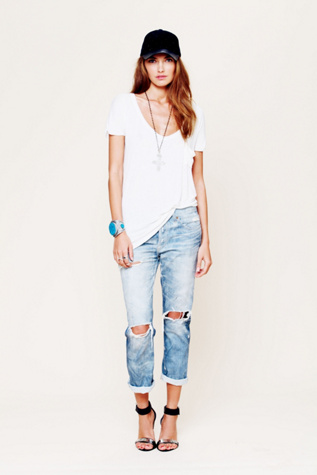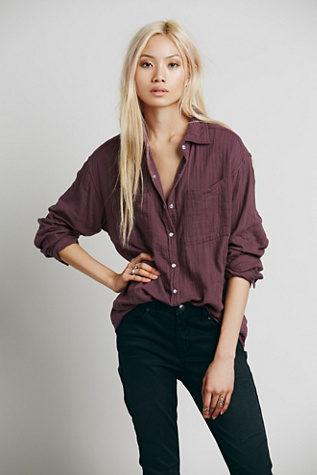 If you haven't realized already I absolutely love super soft, relaxed, and casual clothing. I'm all about oversized sweaters, unbelievably soft fabrics, and cute joggers/sweats. So, it's no surprise that a trend that I have been loving lately is the boyfriend clothing trend! I find almost all boyfriend clothing pieces to be super soft and comfy and it gives the perfect amount of bagginess yet still looks feminine enough.
The main thing on my wishlist for boyfriend clothing is a loose button down! I love how it hangs on the body with the subtle unbuttoned look. The one pictured above is from Free People so unfortunately it's out of my price range but I will definitely be on the hunt for some more affordable ones!
I own one pair of boyfriend jeans from American Eagle which is a little big on the waist for me but a simple belt fixes it perfectly! I am still on the search for another pair that is slightly more distressed with a better fit though because I absolutely love the look of boyfriend jeans! I find that the material for boyfriend jeans is incredibly soft on the inside (plus American Eagle jeans are just great quality in my opinion) and it just feels so comfortable! I love rolling up the jeans and pairing it with some ankle boots. I also love how you can dress it up a bit with some simple heels! Boyfriend jeans are just a great addition to every closet.
What do you think about boyfriend clothing? Yay or nay?